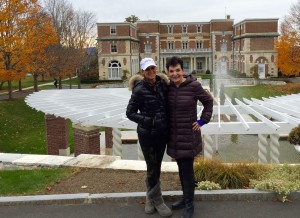 It took too many hours to get from Orange County, California to Canyon Ranch, Lenox, but it was worth it.
The leaves had turned to the most wonderful colors. The weather was cold and crisp with sunny skies. The hotel/spa grounds are magnificent, decorated with good art from local artists. The activities, indulgences and side trips made it feel like a very luxurious camp.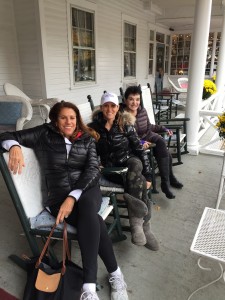 AN OUTING TO THE RED LION INN
Even better, what a perfect bonding opportunity it was for me, my daughter, Jessica, her friend Lulu and our cousin Debbie.
We laughed, went exploring, got massaged, exfoliated, and ate colorful, healthy food. We stretched and exercised, danced and joined a drum circle. There is something about doing all this with people you care about that nourishes the soul.
Speaking of the soul, this turned out to be  "METAPHYSICAL" week at the ranch. (I didn't know that before I arrived.)
So, I embraced the opportunity. I took a numerology class, listened to a medium or two and got introduced to Tarot card reading.
My resolution? I'm going to learn how to read Tarot cards.
It was like being in Hawaii long enough to have some of the muumuus start to look flattering. The cynic in me finally … was titillated.
I admit it… that last self-described, "mystical, clairvoyant fortune-teller," got to me. She made some sense, I decided.. Maybe it was the Virgin Mary's they served during "cocktail" hour. Or maybe you just had to be there.
There were women everywhere but there were very few men.

One, in a moment of foolish revelation, announced in front of his unhappy wife, that if ever he got divorced, Canyon Ranch would be his first stop. A reasonable thought, actually, which would have been best to have kept to himself.
An artist from Baltimore and her charming fiancé figured out that our little group was having too much fun. They were fun to hang with.. I hope we see them again.
Then, on the last night, when Jessica and I walked into the Bingo room a woman pulled us aside. "I won't tell anyone you played Bingo if you don't tell," she said.
We re-assured her.
What happens in Canyon Ranch stays in Canyon Ranch.
---
Email Dr. Linda