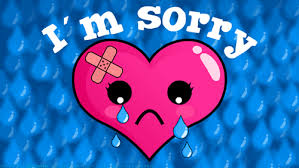 You did something wrong, for sure… and you really are sorry.
Perhaps you've gossiped without knowledge, broke a confidence, let somebody down, or acted selfishly. Maybe you've broken a promise.
Not to worry; everyone's been guilty.
But for now what you want, is for whatever you did to go on automatic re-wind… and quickly. To move on and  sort of make believe it never happened and for your spouse/partner/friend/ boss or child to forgive you.
Once you're past trying to find some sneaky explanation for your behavior, read on:
Assuming your travesty doesn't include murder or anything close, it is up to you to issue a MEANINGFUL APOLOGY.
WHY APOLOGIZE?
Because the relationship you are talking about, is important to you.
Because a "real" apology is can kick-start your burned-out romance/ bromance/ relationship into a more positive direction.
Because it gives covert permission to the person you've hurt, to own up to his/her own mistakes.
Because flaws, failings and weaknesses, when they are acknowledged, may even be endearing to those who care about you.
Because you really are sorry.
You just have to get it right.
A MEANINGFUL APOLOGY IS ONE WHICH:
communicates EMPATHY and demonstrates that you can "put" yourself into the shoes of the person you have injured.
takes place in a timely manner… as soon as possible.
is never sent in a text message.
happens in person, if possible.
happens by telephone if in person is not possible.
happens in the form of a letter, written by hand and sent snail mail.
Above all, a MEANINGFUL APOLOGY includes the specific request:
                                       "What can I do to make this better?"
---
Email Dr. Linda