When you have a gripe with your significant other, it's kind of normal to "NAG"
You never mean to NAG exactly… you just want to feel heard by him or her, who you say you love. You want, whatever your message, to inspire the desired change in your partner.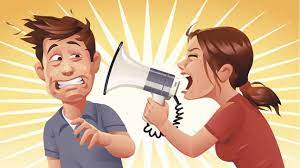 Some mornings, like today, "Amber" started the day vocalizing her unhappiness about something. She'd been up half the night, in her own head, RE-HASHING all the things "John" has done wrong lately.
"How could he have left those dishes in the sink AGAIN ?"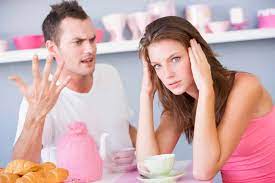 "Dan "complains that it is his wife "Kate," seems to be retreating from their relationship and he resents how she doesn't see to appreciate him at all, anymore. She says "he re-hashes all of my so-called 'trespasses' over and over… I must do something right," she says.
Oh,  Amber also says she has had it with putting up with his late night calls from his cute assistant at work.
She can't even decide if she's angrier about the girl or the dishes.
Amber and Dan, each think they deserve better..  Each of them, in the hope that their spouses will change if they complain enough, throw  their  own negative energy  onto their partners.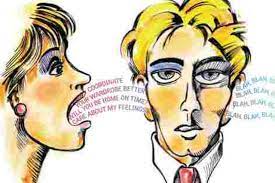 GREAT GOAL… LOUSY THINKING.
Know what is more likely to work?
Forget trying to guiltily provoke the one you say you love, into not skipping that promise of a weekly date night. Postpone the tear sand finger-pointing. Just for now forget about the dishes … and even the girl at work.
AMBER… DAN… STOP AND THINK ABOUT WHAT YOU CAN DO TO MAKE YOUR RELATIONSHIPS BETTER,
Challenge the junior high school kids inside of you and skip the negative words …. for now… just for now. (Problems need to be discussed … but at the right time.)
THINK ABOUT THIS
YOU'RE  FRUSTRATED, FOR SURE… BUT IS WHAT YOU ARE ABOUT TO SAY GOING TO LEAD TO SOMETHING PRODUCTIVE?
JUST FOR NOW, TAKE THE SPOTLIGHT OFF OF YOUR PARTNER AND RE-FOCUS IT ON YOURSELF.
Try improving your interactions BEFORE you talk about them. If you  "NAG"  often enough, it's easy to get stuck in your own negative story. It is  easier to blame your other.
Instead, start with a self-search challenge. Has too much talking about your same old problems has worked for you? If not, dip into my bag of encouraging "tricks"..
Catch her doing something right,
Leave him a love note on the mlik container
Reminisce about old times and photos.
Make time for romance.
Stay healthy and look good for yourself and one another.
Hang out with healthy friends.
Make him/her look good.
Catch him walking in the door and greet him with a smile.
Put away electronic devices for an agreed upon period of time every night.
IF YOU IMPROVE YOUR INTERACTIONS BEFORE YOU TALK ABOUT THEM, YOU'LL SPEND A LOT LESS TIME RE-HASHING OLD HURTS THAT SHOULD HAVE BEEN LAID TO REST A LONG TIME AGO.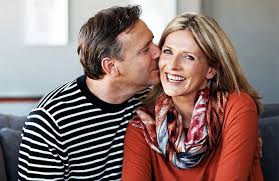 Trust me: I'm the love doctor.
---
Email Dr. Linda