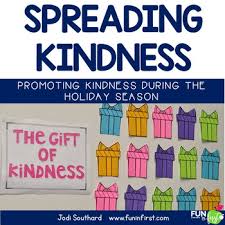 Parents and grandparents: In the name of love, give the gift of a "kindness lesson" to the kids in your life.
Happy Holidays and a wonderful New Year to all. Offer up:
                                                       DR. LINDA'S  ONE-A-DAY KINDNESS CHALLENGE
1.Give someone a hug.
2.Let someone in front of you in line.
3.Hold the door open for someone
4.Donate some books to the library.
5.Tell a joke to someone to make them smile
6.Smile at a classmate or friend.
7.Call a relative just to say hello.
8.Write and send a thank you note to someone.
9.Thank your teacher for something he or she does for you.
10.Tell someone you love them.
11.Play with your animals.
12.Help out someone in your family without being asked.
13.Tell someone else you love them.
14.Smile and say thank you to a waiter in a restaurant.
15.Do something kind for yourself
16.Do something unexpected for someone.
17.Offer to help your teacher.
18.Make a gift for someone.
19.Make a list for all you were grateful for during the holiday season.
20.Hide a happy note for someone to find.
21.Give a book you loved to a friend to share.
22.Compliment a friend for something he or she does well.
23.Cook something yummy for your family.
24.Do something special for someone in your family to make them smile.
Will you take the Kindness Challenge AND COMPLETE ALL THESE
(PARENT ALERT: BEST TO OFFER A TANGIBLE PRIZE FOR COMPLETION TO GET THE NEW YEAR STARTED RIGHT.)
---
Email Dr. Linda