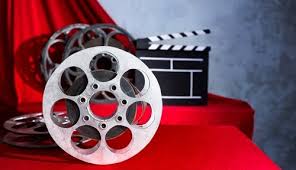 I spoke to a new dad who was challenged by his own moral compass, enough so, that he shared his story with me, which in turn, inspired me to write  a short, "cautionary" screenplay
Everyone who has ever had a baby knows what is feels like to be too exhausted to do much more than take care of that baby.   It is a good idea for parents of young children to designate some kind of intimate time for each other.
                                              "LUST" AT THE CAR WASH
INT. MERCEDES BENZ CAR WASH WAITING ROOM – DAY
Plush waiting room with big screen TV's and large glass walls. Well-dressed patrons, on ipads or cell phones. Some drink coffee and chat. All are holding beepers, as they wait for their cars, once cleaned, to be returned.
BRETT, 35, and REED, 40, in business clothes, in animated conversation. Brett's phone rings.
BRETT
Hi honey… Yeah… I know. It's just a car. I'll get over it. Kiss the baby for me.
He ends the call
REED
So, "Daddy", how's it going?
BRETT
Ella is totally adorable. Karen can't believe she"s ours. Look…
Brett pulls up a photo on his phone of his wife with the baby.
REED
Beautiful girls.
BRETT
Karen won't let her out of the sight.
REED
So that means Ella sleeps with you? We did that for a bit. It gets old.
Milli, 25, attractive, in a red business suit, enters. Brett's recognizes her.
BRETT
Hey, Milli.
Milli smiles and joins them.
MILLI
Brett.  Nothing like free car washes.
BRETT
Meet Reed, my buddy. Milli is a new associate at our company.
They shake hands.
REED
You drive that little red two-seater. I saw you drive in.
MILLI
I love, love, love that car.
REED
I get it. I have its twin.
MILLI
Really?
REED
Until four o'clock, today, anyway.
BRETT
He's trading it for an SUV. Standard issue with a new baby.
Brett's beeper goes off. Reed and Brett bump fists.
BRETT
See you back in the office, Milli.
Milli heads toward coffee machine.
MILLI
Can I bring you some coffee.
INT. WAITING ROOM
At a table for two, Reed and Milli talk, laugh and drink coffee as they wait for their cars.
MILLIE
Sorry about your car.
Reed feels the beeper go off in his pocket. He ignores it.
Millie's beeper vibrates in her purse. She ignores it too.
REED
The SUV is still a Mercedes. It's not so bad.
MILLIE
That is so sweet… and not true. You can't fool me.
REED
OK… So I'll miss it.So what?
MILLIE
I hope someday, someone… I mean after I get married and have a baby, of course,… I hope someone would do that for me.
REED
I think he'll be a lucky guy, Maybe he'll even find a way to let you keep your little red car.
Milli looks at her watch.
MILLIE
This has been so nice… to talk to you, I mean.
EXT. MERCEDES BENZ PARKING LOT – DAY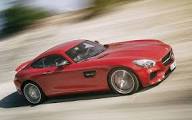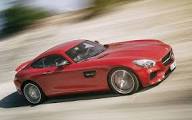 Milli and Reed in lot. Their matching cars stand one in back of the other. They laugh at the image.
She takes out a business card and hands it to him.
MILLIE
If you ever miss your car so much, that you can't stand it…
Reed  smiles,takes the card. Milli takes off.
He goes to put it in his wallet only to be faced with a photo of his wife and baby. He slams his wallet shut. This could be trouble. No point in tempting the fates. That girl was clearly special. But so is his wife… and the baby.
He walks to the trash bin, stares at the card. Can't quite bring himself to dump it and slips it back into his pocket.
He walks back to a water cooler, takes a drink and a deep breath.
He walks back to the trash bin.
In what appears to be an act of courage, he tosses the card into the bin, hands the beeper to the attendant and turns on his engine.
Then, he calls his wife on his cell.
REED
How about we leave Ella with your Mom, tonight?
If you know someone who could benefit from this cautionary tale, please  feel free to pass it on.
---
Email Dr. Linda