DALE CARNEGIE WAS A VERY SUCCESSFUL AND WISE MAN,  WHO RECOGNIZED THE IMPORTANCE AND VALUE OF JUST BEING "NICE."
 Other industrial influencers, wise enough to learn from him, have spread his wisdom and used his book, "HOW TO WIN FRIENDS AND INFLUENCE PEOPLE," in team-building sessions … and not only for the new-hires.
Cynics may judge the book's title as if was intended to be a lesson in manipulation. Never mind that … I, among many, have discovered the true value of kindness and how it links to a successful life, way beyond work.
Take note: Carnegie calls "FLATTERY," "CHEAP PRAISE." He's no fan of dishonesty and talks instead, about how everyone is susceptible to honest "APPRECIATION".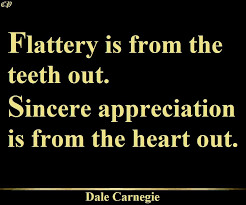 There is always something conciliatory that you can add to diffuse some awful situation, don't you think?
 I've met too many divorcing husbands who have explained away the failure of their marriage by saying their wives had simply forgotten about them and how she had diverted her attention to their kids… her work and/or the other challenges of complicated family life.
I've met too many divorcing wives who has explained the demise of their relationships with a story about her how her husband never even acknowledged or appreciated all she's done for him and their family.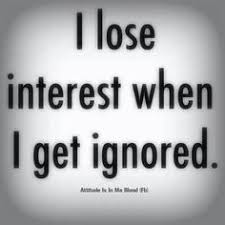 Dale Carnegie tells the story of a wife who asked her husband to list six things he'd like her to change. The very wise husband thought for a while and sent her a note… along with flowers :
 "I LOVE YOU JUST THE WAY YOU ARE," he wrote. It was the best kind of love letter, expressing all the SPECIFIC ways he valued her.  He acknowledged his failing in not seeming appreciative enough at times.
 Who wouldn't like to get a letter like that and who wouldn't want to live up to what really was 'sincere, specific  flattery"?
IF YOU WANT TO WIN FRIENDS, INFLUENCE PEOPLE, ENCOURAGE EXCELLENCE AT WORK … AND HAVE A HAPPY SPOUSE… be nice, remember that everyone has desire to feel important… to be understood…  and then provide sincere and honest appreciation.,
("HOW TO WIN FRIENDS AND INFLUENCE PEOPLE" WAS COPYRIGHTED IN 1936 AND IS JUST AS RELEVANT TODAY)
                                                                          THINK ABOUT THIS
"Tell your child, your spouse, or your employee that he or she is stupid or dumb at a certain thing, has no gift for it, and is soing it all wrong and you will have destroyed almost every incentive to try to improve. But use the opposite technique — be liberal with your encouragement, make the thing seem easy to do, let the other person know you have faith in his ability to do it, that he has an undeveloped flair for it— and he will practice until the dawn comes in the window in order to succeed."
By Dale Carnegie
---
Email Dr. Linda