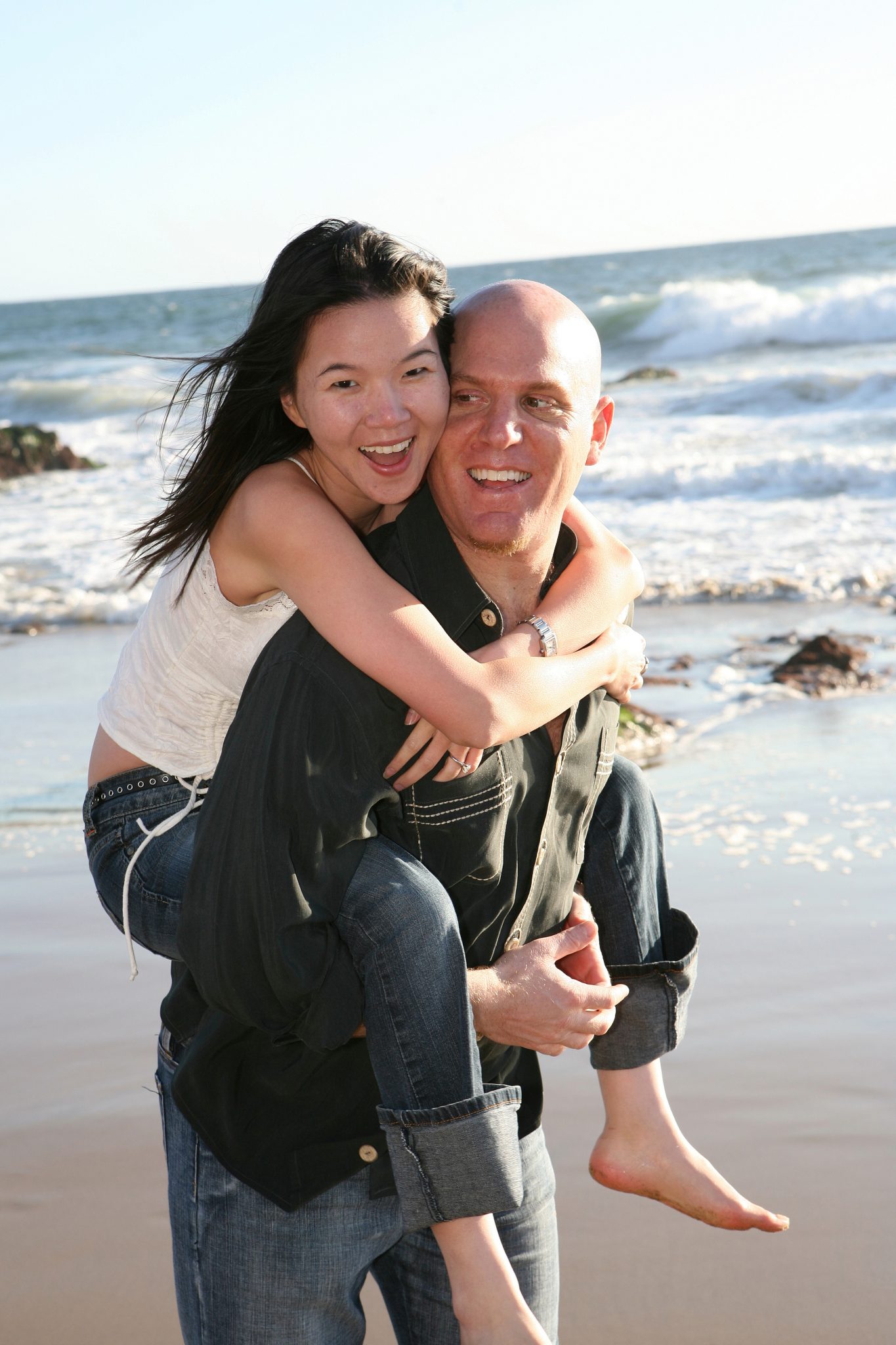 My sweet daughter-in law was the bomb. We always joked that we had a lot in common…. we loved the same man.
I gained new respect for my son, Peter, because she married him… He knows that.
Peter and Joy had an enviable connection. Maybe that's why they made the best kids. For these past nine months, Peter demonstrated his love for Joy in new and extraordinary ways. She was so lucky to have him by her side, always, always, watching her back… above all else.
I wish that kind of devotion to all of you.
Never mind that Joy was the wife of my son and mother of my grandchildren. I loved and respected her as a woman, a daughter… and as a friend.
I'd also like to think that our family… Hy, Jessica, Janie and Ron and the rest of our gang helped Joy and Peter to seal their fate. When Joy came to Hy's 70th bday party, she said she was blown away by the outpouring of affection. She told me later that she knew then that she wanted to be part of us. And so she was… she is… will always be.
She brought us sparkle and joy. Jessica thanked Peter for bringing an "angel" into our family.
There have been so many times that she has been my teacher.
SHE LIVED WITH GRACE AND SHE LEFT WITH GRACE.
Joy squeezed a lot into life. Even in the last few months, she was determined to fulfill her bucket list as much as possible.
She took her responsibilities seriously.  She asked me not to forget to return her LIBRARY BOOKS .  And… just one week before she passéd,  she sat up and announced she had to go to a PTA MEETING.
It can't be an accident that so many have stepped up to help us. I love you guys too. Joy knew how to be a friend… and not just mine.
Thank you to those who organized the funding effort to honor her wishes of dedicating a memorial bench somewhere on the beach. It seems so right for this to be a community effort to thank her. Thank you too, to those who have stepped up to support our family in so many ways.
Joy taught me about generosity. EMOTIONAL GENEROSITY. Give her a gift… and she'd be wearing it, when she next saw you…   to make you … ME … feel good.
Do you do that? Sometimes, I forget.
EMOTIONAL GENEROSITY is the quality of being kind, welcoming and understanding without being judgmental or condemning.
She was wonderful to my mom, who adored her.
She knew how to love Peter best. She made him a better man. He would say that too.
And, Oh, how she loved Annabel and Aidan.
Her circle of love reached out to the other children in her life… The children of her siblings AND of her friends.
She took a gazillion pictures of her family and of all of us…. And seemed to relish in the fun coming from the most- simple -things.
Once she invited me to a hot yoga class. I went… reluctantly… lasted 10 minutes and ran out of the room … before I screamed. The class was no problem for her.
I was thrilled when she agreed to go with me to NY with Annabel last July. It was a magical trip. We brought home a doll, who Annabel named "Matilda" …after we saw the "Matilda" show on Broadway.
Joy told me she had made peace with what was happening to her. She wanted everyone to know that.
I told her I WAS NOT at peace.
She said, "I'm sorry."
AIDAN'S BIRTHDAY was a few weeks ago and my sister, Janie and my nephew Parker visited with us to help celebrate.
I overheard Annabel and Aidan tell Parker that their Mama was very ,very sick and may be dying soon.
Sweet Parker (he's 7) told them that his Papa, (my brother in law, Ron) always watches over him from heaven, just like, their Mama will do for them.
Thank you Parker. You are right.
Dear Aidan… sweet Annabel…Someone very, very smart, once said:
"If you can remember me, I will be with you always." If you remember Mama, she will always be with you. Always. Every day.
She'll be with me too.
---
Email Dr. Linda