My sister's hubby, a loyal  BRUIN, was one of my favorite people.
Not because he's bowled a 300 game. Never mind that he was professionally successful, adored by his family, proficient in most sports, maker of the best margaritas.
He was a guy who knew how to be a good friend and how to have fun. And it was infectious.
He prided himself on living life in "BALANCE." The rest of us could learn from him.
It seemed like a metaphor when his buddy, equally devoted to USC, donned a UCLA tie, as he celebrated his friend's life at the Pavilion Club at Pauley Pavilion on the UCLA campus.
My bro-in-law lived by his own playbook.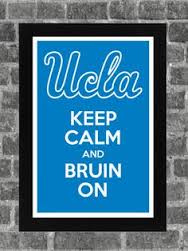 He would call himself a "Funologist". I'd modify that a bit. To me, he seemed to be "an incredibly balanced, square-with- flare, "Funologist.'"

Those in his inner circle knew how he felt about them. He was a family man. Yet, I admired how he seemed to create healthy boundaries for himself. Which, you know, isn't always so easy to do.
Some would credit him with "making" a party. Yet, he often indulged in a little alone time in the middle of an afternoon and went to the movies.
He worked hard, always with integrity. He believed in coloring within the lines.
When it came to sports, he was "the man." It didn't matter whether he was watching or playing. Sports were his passion and John Wooden was his hero.
Each year, during his famous "January diet," he "repented" and allegedly lost the twenty he had gained slowly over the year.
He loved his wife… even doled out her vitamins every day. And made sure she took them.
He cared about his friends, his golf partners, his bowling team and his once a month bridge game, which included his friend's mom.
He always made time to be a hands-on dad and grandpa.
He did all this, given the same 24 hours a day, that we all get.
---
Email Dr. Linda