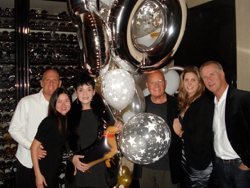 January 29, 2012
Victory Lap Time – Unlike Betty White, I'm not quite old enough to brag about my age but I've decided that fifty years of marriage is worthy cause for celebration. Our kids apparently thought so too.
I admit all this celebrating makes me a little uncomfortable. People whose pictures I see in newspapers who are celebrating golden anniversaries don't look anything like me. At least I don't think so. I was a child-bride and I don't intend to look my age anytime soon.
With that said, I'm proud to be me. My husband and I are honored to be the parents of such accomplished people, who also say they admire our tenacity. I'll admit that I'm also proud that they could afford to make us such a party.
So what's the secret? I've been asked that a thousand times.
My thoughts go back to a psychology convention many years ago when we heard Marsha Lasswell and her husband, enviably attractive and marriage counselors extraordinaire speak about a new project, which they had just abandoned. Their intention was to interview couples who had completed fifty year of marriage to hear about their secrets.
They gave up on their project, they said because they discovered that people, who had stay married for such a long time, hated each other. They got a good laugh.
I don't hate my husband even though there are things about him I'd like to change. He says he doesn't hate me either, even though I forget to turn off the lights and I don't screw the top on the carbonated water bottles hard enough.
I think its sweet that he'll tell anyone who will listen that he's been married for fifty years to five different women, alluding to his perception of my decade-changing reincarnations. He doesn't believe anyone else but him could have put up with me.
I don't think he's changed that much. In spite of his mid-life career-change and completing a PH.D., at fifty.
Men generally marry hoping their wives will stay the same. Women, on the other hand usually have a change-program all set up for their new husbands. I don't know if that was true for us.
So what is the secret? There are a few secrets, actually:
Recognize that "love" is a verb. Loving someone implies having to do something to demonstrate love.
Open your heart to forgiveness. I'm not perfect and neither is my husband any more than is your spouse. Love each other anyway. This is a biggy.
Recognize and celebrate the ways you view the world through the same lens.
Respect your differences.
Honor each other's priorities.
Keep your spouse's secrets.
Laugh together.
Invent interesting and fun things to do with other interesting and fun people.
Find a way to contribute together to make the world or someone's world a better place.
Talk to each other every day.
Remember that the community that surrounds them supports healthy couples and families. Create your own community.
Thank you, Hy, for standing by me for worse, but mostly for better.
Thank you Jessica and Thor and Peter and Joy for acknowledging our marathon marriage in such a grand way.
It's victory lap time.
---
Email Dr. Linda