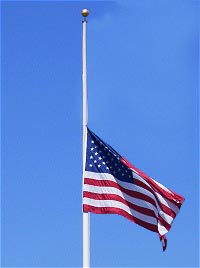 December 16, 2012
Our flags are at half-mast, as I write this. All in the name of love.
Love for the innocent children as well as for the adults who lost their lives in this week's horrific slaughter in Connecticut.
Love for their parents, grandparents, aunts, uncles, neighbors, children, teachers, classmates and friends. We lower our flags for all of them in the name of love.
Lives were changed forever, starting today. Maybe even mine, although I don't think I even know any of these people.
You also may grieve by hugging your children a little harder and a little longer than you usually do. We hug, hoping that we can magically protect them from the apparent randomness of this kind of terror and insanity.
Listen up, my friends. There are more shooting deaths in the United States than in any other country. Really. Did you know that?
There has to be a way to control the ownership of automatic weapon like the AK 47. Or of the Automatic Glock, which proved to be such an effective massacre tool yesterday.
What good can come from these weapons? In any situation? Is there something I don't understand?
To those who claim that guns don't kill, think again.
It's time for all of us to step up. All of us. Starting with our elected officials, who have talked about this issue long enough.
And we need the National Rifle Association to help. Those guys have kids who they love too.
---
Email Dr. Linda