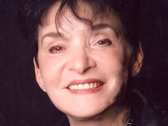 July 7, 2012
Forget "Bondage," Love Has To Do With Bonding – Never mind the current best-selling trilogy of "mommy porn" fiction which I talked about in my last entry. (Click here on "Fifty Shades of Gray" to check it out.)
I'm saying that if you really want to keep love hot, "bondage" doesn't work. The husbands and wives who manage to turn each other on for the long haul, are those who "bond" through hard work, forgiveness, humor and the fruits of combined imagination.
So, get busy. You've got your work cut out for you. It's not boring work. Lust and limerence can be restored.
I'm sure you'd also admire the vibrant couple , who created a foundation introducing wanna-be musicians to a variety of instruments. The young people who receive their gifts, are so grateful and will continue to benefit.
But so will their benefactors. By remaining involved in this wonderful project, they have given their own lives an exciting shot in the arm, as well as giving the rest of us a kick in the butt.
Get involved together to keep love alive.
Dance. Ever watch couples doing a Texas Two step? Even if you're not going to dance, listen to the sounds in the room and learn something. You'll hear lots of laughter and laughter is sexy.
I Don't want to go completely "Texas" on you, but take a look at some of the gals in this "Billy Ray Cyrus – Achy Breaky Heart" YouTube video doing the Texas Two Step. Tell me they don't look like they're having fun and feeling sexy. An enterprising, falling-apart, pot-bellied man who has the optimism to get out on the dance floor with these gals will be viewed as 'extremely sexy' in the eyes of the ladies. Trust me fellas… Dance! Have fun. Not a dancer? Who cares. I'm not a great dancer myself, but guess what! I will be taking some dance lessons at the local community center soon.
[youtube https://www.youtube.com/watch?v=byQIPdHMpjc?list=PLjd-mv-vzDt4TpXivfw-fo7sfWAbToqAY&w=560&h=315]
Other Ideas – Learn a new language or pursue a new sport with your spouse. Try chess or bridge. Volunteer in some community effort that means something to both of you. Plan an exotic adventure.
Commit to a healthier life style and learn to cook. Take turns being the sous chef. Show off and invite friends for a gourmet, calorie light meal.
Reach out to make some new couples-friends. New people bring new energy to your relationship.
Everyone smiles at new lovers. Long term lovers, who have managed to remain together with apparent love sparks still flying, inspire even more of a special envy.
"I'll have what they're having," you think.
"Is it really possible to live happily ever after?"
Yes, insists this love doctor.
Somewhere I read that "love" is like a snow globe. It gets most interesting when you shake it up a bit. It seems, that those people who are willing to take a few chances and aren't afraid to "dance" around, are the ones who are most likely to keep love hot.
---
Email Dr. Linda