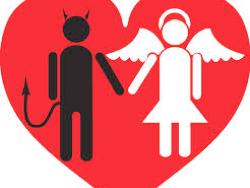 March 3, 2015
"In a super-hero movie, its typically good guy and bad guy… and bad guy attacks. In real life, evil seduces."
—Joaquin Phoenix
Not always, but sometimes, these evil seducers are narcissists with over-inflated ideas of their own importance and talents, like the fictional Christian Grey in the story, "Fifty Shades of Grey."
I never saw the movie… the book was enough to make the point. Take away his money and "Christian" is portrayed as nothing more than a creepy guy who gets off on abusing women.
In spite of obvious charm, narcissists have holes in their hearts, which can never be filled, by you or any one else. Narcissists are really insecure bullies who only "operate" as if the world revolves around them. Because they are most often perfectionists, they are extremely demanding and hyper-critical of others, as was "Christian Grey."
Narcissists come in both sexes, but its men who are more likely to be these kinds of exciting, angry, arrogant crazy-makers and having a few bucks doesn't hurt.
---
Does someone important in your life:
1. GET ENRAGED and NEVER TAKE RESPONSIBILITY for his actions when you are upset?
2. ALWAYS GET DEFENSIVE when you try to tell him what you need from him?
3. DISAPPEAR, PHYSICALLY OR EMOTIONALLY when times get inevitably tough?
4. LOVE YOU TO DEATH ONE MINUTE AND DISS YOU THE NEXT?
IF YOU LOVE A NARCISSIST:
1. Recognize that you can't change him.
2. When he physically attacks, leave.
3. When he verbally attacks, and you do choose to stay, challenge the words he has called you but do not own them.
4. Get professional help to keep yourself sane.
5. Look in the mirror and take responsibility for how much you were attracted to that over-the- top "romantic" attention he first brought to your relationship. He had wanted you and he to become "ONE". Understand that he had neglected to tell you that the "ONE" he wanted you to become was HIM.
6. Recognize how you, as a nurturer-to-a fault, are the perfect target for such a man and how he's learned that you are likely to forgive and love him anyway.
7. Know that if you choose to be in this relationship, there's a fair chance, your narcissist will continue to be "loving" as only he knows how, in an increasing attempt to become even more in control.
8. Understand, finally, that you must learn to set boundaries and reasonable limits for yourself as it pertains to him… as well as to everyone else in your life.
9. Make sure your communication with him is firm but clear … and kind.
10. Recognize that the only chance for things to be different will occur; when and if, he ever seeks the help he needs for himself.
SPOILER ALERT: The fictional "Mr. Grey" ultimately does come around. In real life… while it is possible… it is much less likely.
---
Email Dr. Linda