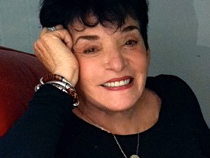 October 3, 2014
My credentials as a love doctor are stretched on every trip I make to New York. I've often been accused of having a love affair with this city, my original "hood."
There are lots people here who look, sound and dress like me. I see a reflection of myself everywhere. Can you understand? Everyone wears black.
Still, I would not choose to be in New York all the time. Really. I have no such bumper sticker on my car or in my heart.
Maybe it's not your idea of a relaxation, but I'm sitting on a jet-way, in an uncomfortable airline seat, waiting for bad weather to pass in the Midwest and still, I feel totally rejuvenated after just four days in the city which never sleeps.
"How can that be"? My grouchy seatmate, happily returning home to our California sun, doesn't get it. ? He was astounded to hear that I make the "trek" east, three times a year, just for fun.
"Fun? What do you do there that's so great?"
For starters, I said, I talk to as many people as possible. Actually, I spend more time listening. New Yorkers are very revealing in their interactions. And friendly. It's a myth that New Yorkers aren't friendly.
The New York Film Festival was on this week and my friend, Lois and I saw a preview of "Whiplash," after which, the director / writer and two of the stars fielded questions about the movie. Apparently, it was date night for a lot of people who also wanted "to be a part of it," the action, that is. How wonderful for them. Good for their kids too, to see Mom and Dad sharing some adult time.
In Brooklyn, there were posters everywhere announcing Neil Diamond, singing that night, at Erasmus Hall High school, his alma mater… and what would have been mine, had my family not moved to the suburbs.
Brooklyn has grown up; it seems, just like me. Hipsters live in neighborhoods these days, which once seemed off limits for safety reasons. So exciting to see the evolution/restoration of these familiar sights.
We walked over the Brooklyn Bridge. I saw lover's locks, hooked onto the metal of the bridge. Just like in Paris, lovers seal their fate with locks announcing their commitment to each other. Other couples stop to look, smile and join hands.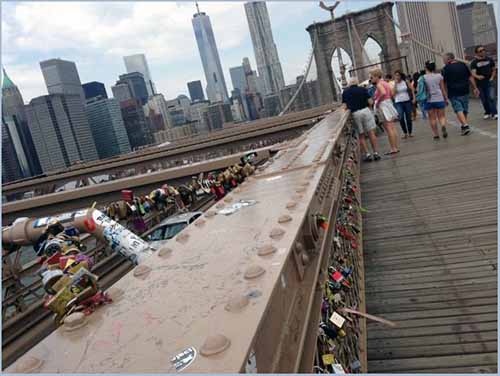 On a street corner, Robert Indiana's three million dollar, thirteen-foot tall, three-ton pop art sculpture, new to me and to New York, reads "HOPE".
People in work clothes ride bicycles… even in the rain. You can rent one at one place and return it at another.
Subways are air-conditioned these days and I saw no graffiti.
Never mind the Broadway shows. We also spent some time at Ellen's Broadway Diner, where the waiters are all entertainers, waiting to be discovered. They sing and dance and serve food that doesn't even have to be very good. Talk about "HOPE."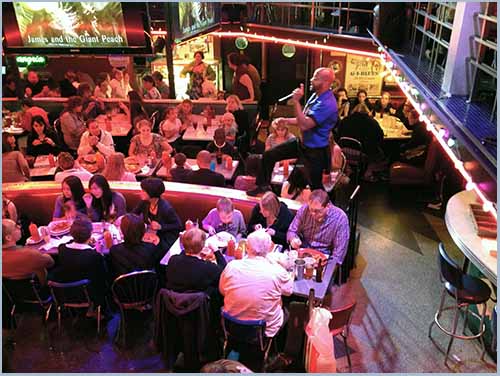 We crashed Carnegie Hall on opening night. Really, we did. Lois and I. We decide this was a perfect female bonding experience. The crowd broke, the doors were still open and no one was in sight. Could you resist? Come on. This was Carnegie Hall. We took the elevator up to the box seats and sat, took a few selfies, and admired this grand old institution.
We didn't get arrested. 🙂 If we had, this would have been a much better story.
So nice that Tavern on the Green had re-opened. While we were at it, we visited the Society of Illustrators, The Neue and the Folk Art Museum, all nearby.
---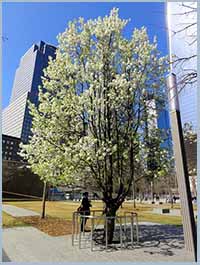 Most poignant, though, was the time spent at the 9/11 Memorial and Museum. Interesting and so, so sad.
But the little tree (aka: the "Survivor Tree"), the only tree which survived that terrible day, had grown since I was there last and it got a lot of well-deserved attention.
I blew it a kiss… a celebration of "HOPE".
---
Email Dr. Linda