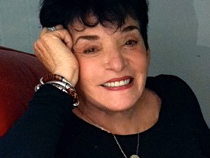 August 16, 2014
Suicide sometimes looms like a permanent option for what usually turns out to be a temporary problem. How sad that is. The decision to take one's life is usually made in a fuzzy brain state, colored by some event or disappointment that may seem insurmountable.
"Life isn't for everyone." Robin Williams was quoted as saying, a long time ago.
This week, "suicide" rose to the top of things to think and talk about. Everyone has a story.
With setbacks and disappointments, come feelings of sadness and what some would identify as "depression." Most often it's not really depression, but a normal blue reaction to life's challenges. Depression, on the other hand, is a serious mental illness, which requires treatment.
Some depressed people don't even feel sad. They may feel empty, hopeless and/or worthless.
Particularly, when men get depressed, symptoms can look like anger, aggression and/or restlessness. They may not even want to talk about it.
Treating depression always includes suicide assessment. I have never lost a patient to suicide. But I have lost a friend.
---
Katy has been on my mind since the news of Robin Williams untimely death occurred. Beautiful, talented, successful Katy killed herself at thirty-nine. Katy, in her world, in her own way, was also a star. Her family was devastated, and so was I. In retrospect, I wonder if I could have done more to help her reclaim her life.
All week, I have been listening to others tell their own stories about depression and suicide. Mostly, they are about fear.
Robin Williams once quipped that his GPS was directing him to drive off a bridge and everyone laughed.
I'd bet his family and friends are wondering today if there was anything else they could have done to help soothe his apparently ravaged soul.
In today's paper, Sandy Segerstrom Daniels, from Newport Beach, California, encourages all of us to join together to make this a "Share That You Care Day."
To let those who you care about, know how they make a difference in your life today… and to use the hashtag, #sharethatyoucareday.
I say never miss an opportunity to do the same in an effort to get someone you love the help they need. Maybe, just maybe, your gesture will creep into someone's despair when then things he/she love most, seem to be melting away.
---
Email Dr. Linda