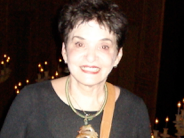 January 28, 2011
Ever hear of Bugs Moran?
He was one of the seven guys killed in the 1929 massacre. The one masterminded by Al Capone in Chicago, on Valentine's Day!
Capone had arranged for the "special valentine" to be delivered to his rival gang. Moran and his men were riddled with bullets from a machine gun, the likes of which no one should ever own.
Both these men were infamous for their gangland atrocities but even if Bugs was not an especially good guy either, at least he must have had a romantic ghost.
As the story goes, it was the ghost of Bugs Moran who haunted Al Capone, "the grinch who stole Valentine's Day" for as long as Capone lived, as a payback for his dirty deed. I like that in a ghost.
My Valentine's wish is for guns to be unavailable to people who shouldn't have them and to further avenge the most romantic holiday of all. How to do that?
Make love, not war. Everybody!
But first, with your partner of choice, watch at least one of the ten most romantic movies of all time. It will make it a little sweeter.
CASABLANCA – A classic, about lost love.
AFRICAN QUEEN – About the power of opposite attraction.
LOVE STORY – About the sacrifices people make in the name of love.
DIRTY DANCING – About dirty sexy dancing.
GHOST – About how love lasts forever.
JERRY MAGUIRE – About sports and love and how the most important thing is who you are with.
SLEEPLESS IN SEATTLE – About how true love can happen by chance.
THE NOTEBOOK – About how love triumphs in spite of war, illness and family disappointments.
TITANIC – About how love overcomes class differences, disaster and death.
LOVE ACTUALLY – About ten separate love stories.
---
Email Dr. Linda